CONTRA COSTA ASSOCIATION OF REALTORS®
WEEKLY NEWSLETTER | JANUARY 4, 2022
CCAR OFFICES closed During remodel UNTIL JANUARY 12; staff working remotely to serve you.
Appointments required to pick up real estate shop items, lockboxes and laptop purchases, please contact [email protected] or 925.295.1270. 
No appointments will be made after 4pm. 
Click a title below to view detailed contents by topic.
Education contains a list of upcoming classes.
FEATURED: Social Media Secrets for a Low Inventory Market
Tue., Jan. 11  |  10:00am – 11:00am

FEATURED Exclusively for CCAR: 2022 President Debi Mackey and Wise Agent Present: Why You Need a CRM to Grow Your Business
Tue., Jan. 11  |  1:00pm – 2:00pm
Leveraging Video in your R.E. Business
Wed., Jan. 5  |  10:00am – 11:00am

Intro to Listing Input & Maintenance
Wed., Jan. 5  |  2:00pm – 4:00pm

Sending Auto-Notifications Using Collab. Center
Thu., Jan. 6  |  9:00am – 11:00am

Transactions (zipForm Edition) Fundamentals
Fri., Jan. 7  |  5:00pm – 6:00pm

The NEW California Residential Purchase Agreement
Mon., Jan. 10  |  10:00am – 1:00pm

Intro to Paragon
Mon., Jan. 10  |  2:00pm – 4:00pm

Why You Need a CRM to Build Your Business
Tue., Jan. 11  |  1:00pm – 2:00pm

Intro to CMA Reports with Cloud CMA
Wed., Jan. 12  |  9:30am – 11:30am

Are Your Online Profiles Optimized?
Wed., Jan. 12  |  1:00pm – 2:00pm

Build a Foundation for Your Business with Wise Agent
Thu., Jan. 13  |  10:00am – 11:00am

Intro to RPR®
Thu., Jan. 13  |  1:00pm – 3:00pm
Visit the CCAR Calendar to view/register for additional online training opportunities.

SUSPENDED MEMBERS FAILING TO MEET NAR ETHICS REQUIREMENT:
CCAR Members who did not meet the Dec. 31, 2021 NAR deadline for Code of Ethics training can still access the free course here. After completing the course your membership can be reactivated by sending your completion certificate to [email protected].
For more information on the consequences of failing to meet the NAR Ethics requirement, click here.
NAR Green Designation – Mar. 1 & 2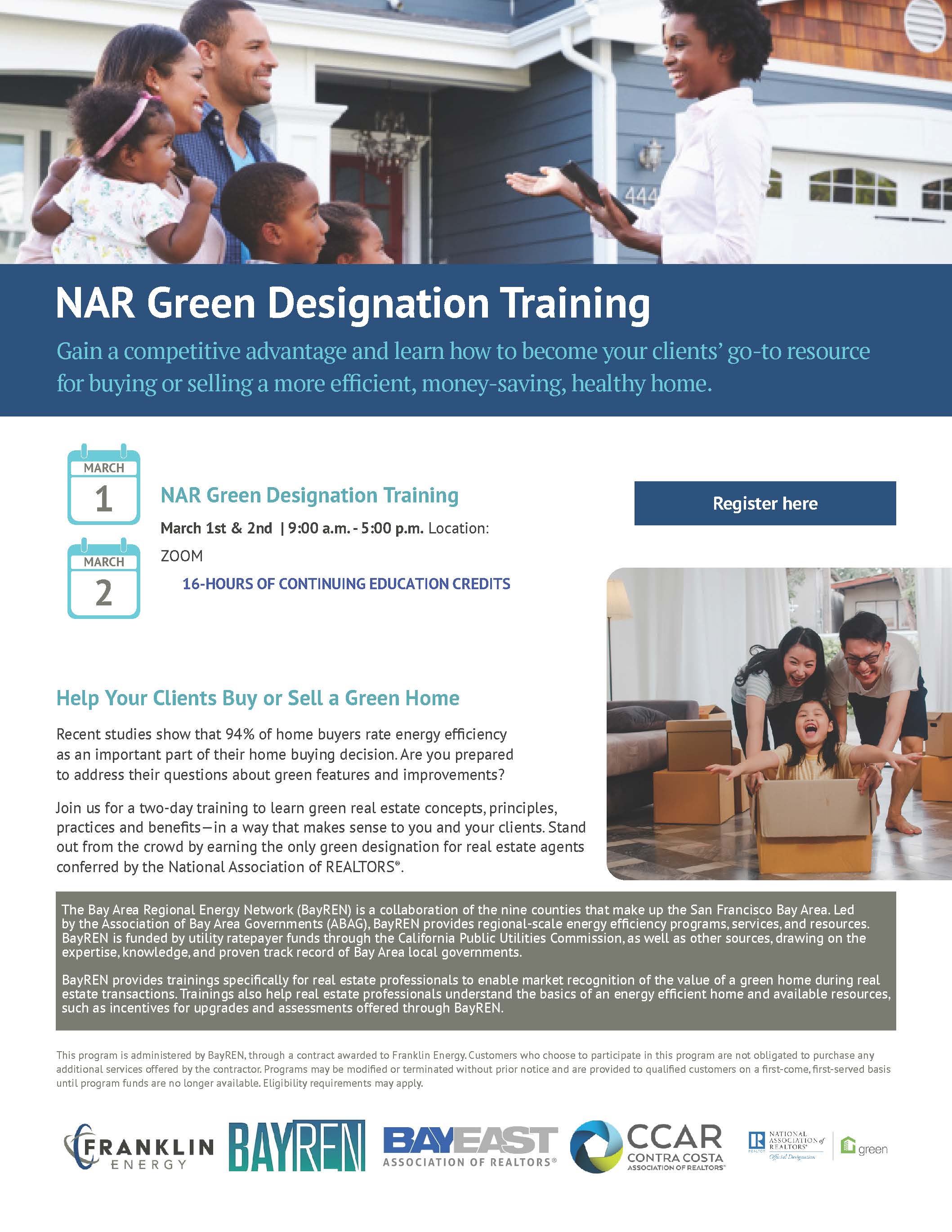 Gain a competitive advantage and learn how to become your clients' go-to resource for buying or selling a more efficient, money-saving, healthy home. Join us for a two-day training on March 1 & 2 to learn green real estate concepts, principles, practices and benefits—in a way that makes sense to you and your clients. Stand out from the crowd by earning the only green designation for real estate agents conferred by the National Association of REALTORS®.
CCAR Inaugural This Saturday;
Guests, Please Plan Ahead for Entrance Requirements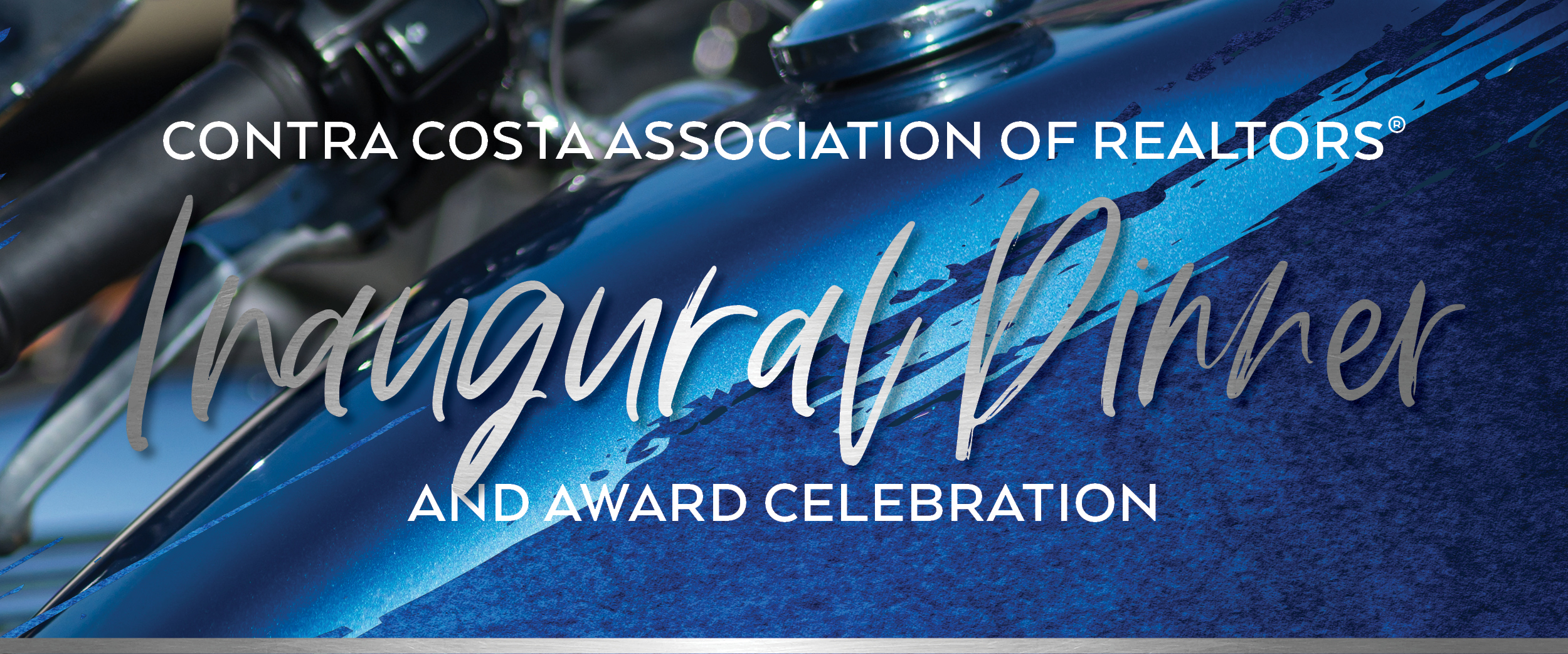 Inaugural ticket sales are now closed.

We are taking all precautions necessary while following Contra Costa County Health orders to ensure a safe Covid-free environment for all attendees, please plan ahead to comply with the following entrance requirements:
1.  Provide either proof of vaccination or proof of negative Covid test (taken within 72 hours prior to the event and must be authorized by a doctor or medical clinic (CDC Covid-19 Vaccination Record Cards and/or QR codes accepted as proof. Over-the-counter home test results are not acceptable for entrance into the Blackhawk Museum.)
For Contra Costa County testing sites, appointments and information, click here.
2.  Provide proof of identification at check-in.
3.  Face masks will be required at all times unless actively eating or drinking.
If you have not completed the COVID-19 ASSUMPTION OF RISK, WAIVER AND RELEASE form copies will be provided at check-in.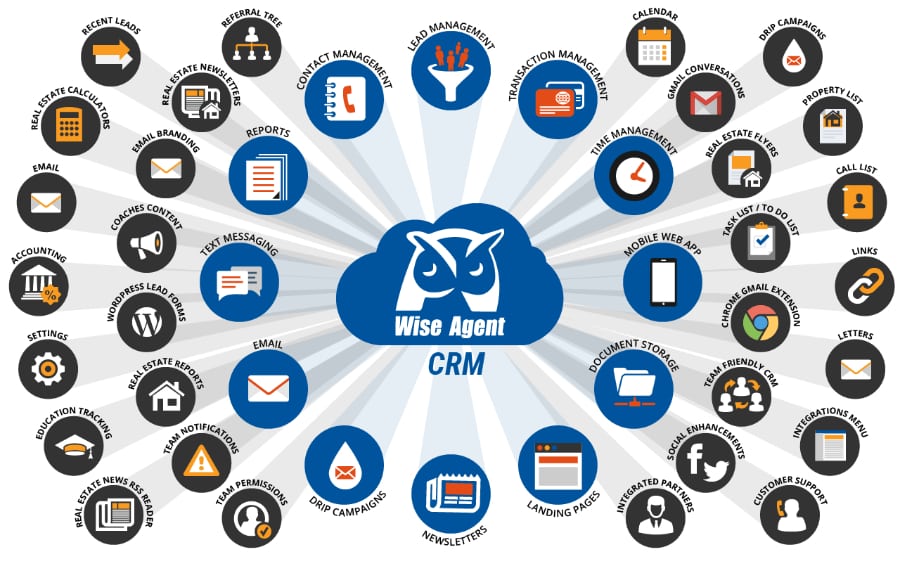 Wise Agent is a simple, smart, and affordable real estate CRM platform combining contact management, lead automation, transaction management, and real estate marketing software. Wise Agent helps REALTORS® become more efficient, giving them the opportunity to save time and make more money! Follow the link to learn about the new CCAR Wise Agent Discount Program!
Read More »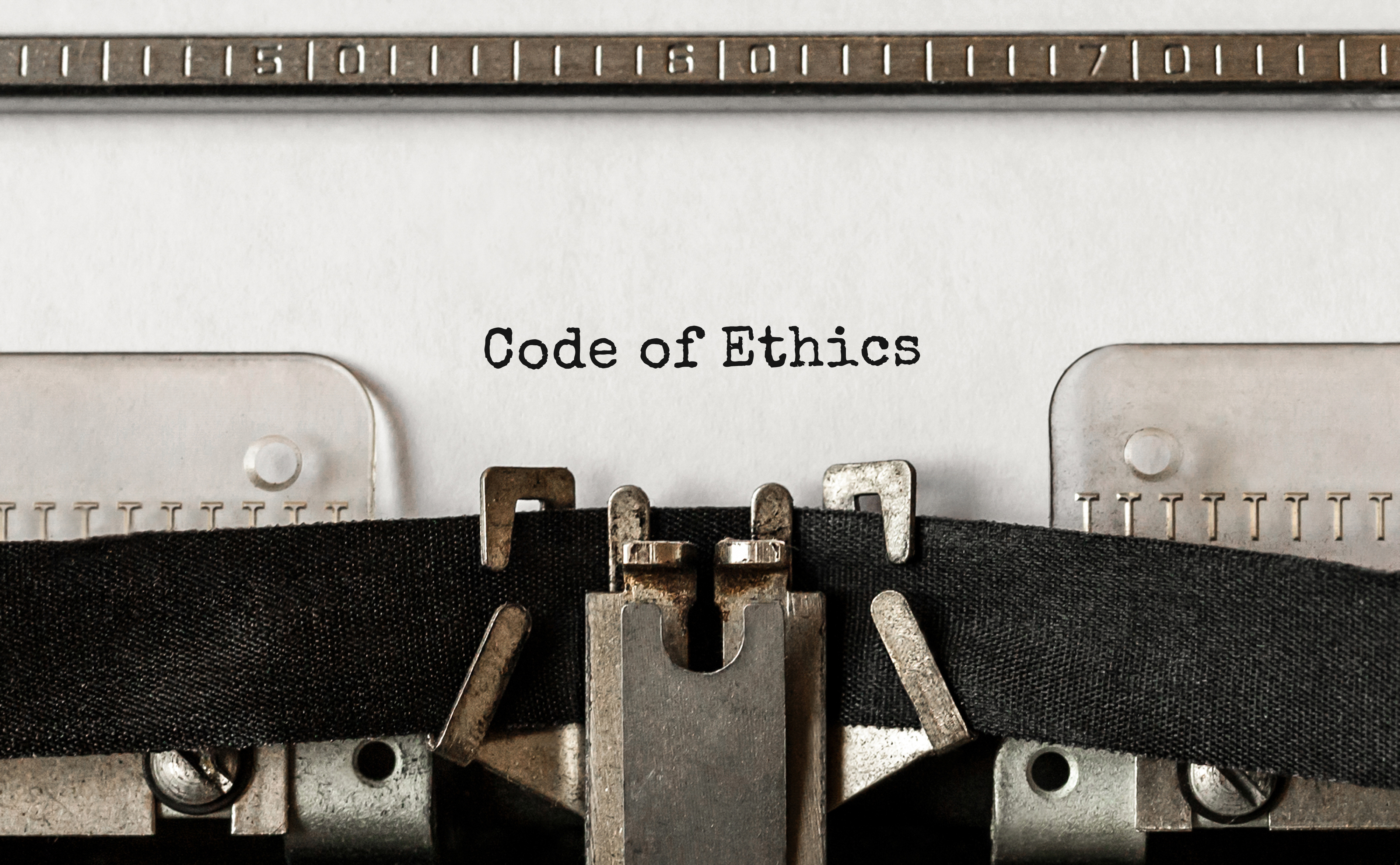 In an effort to make ethics violations and the disciplinary process more transparent, C.A.R. is publishing the names of members who are found in violation of the Code of Ethics as well as summaries of the members' unethical behavior.

Member publication is triggered only if the discipline imposed is a reprimand, fine, suspension or expulsion – anything other than a letter of warning or stand-alone education. The information will be published on the members-only section of car.org. 

Past decisions of ethics…
Read More »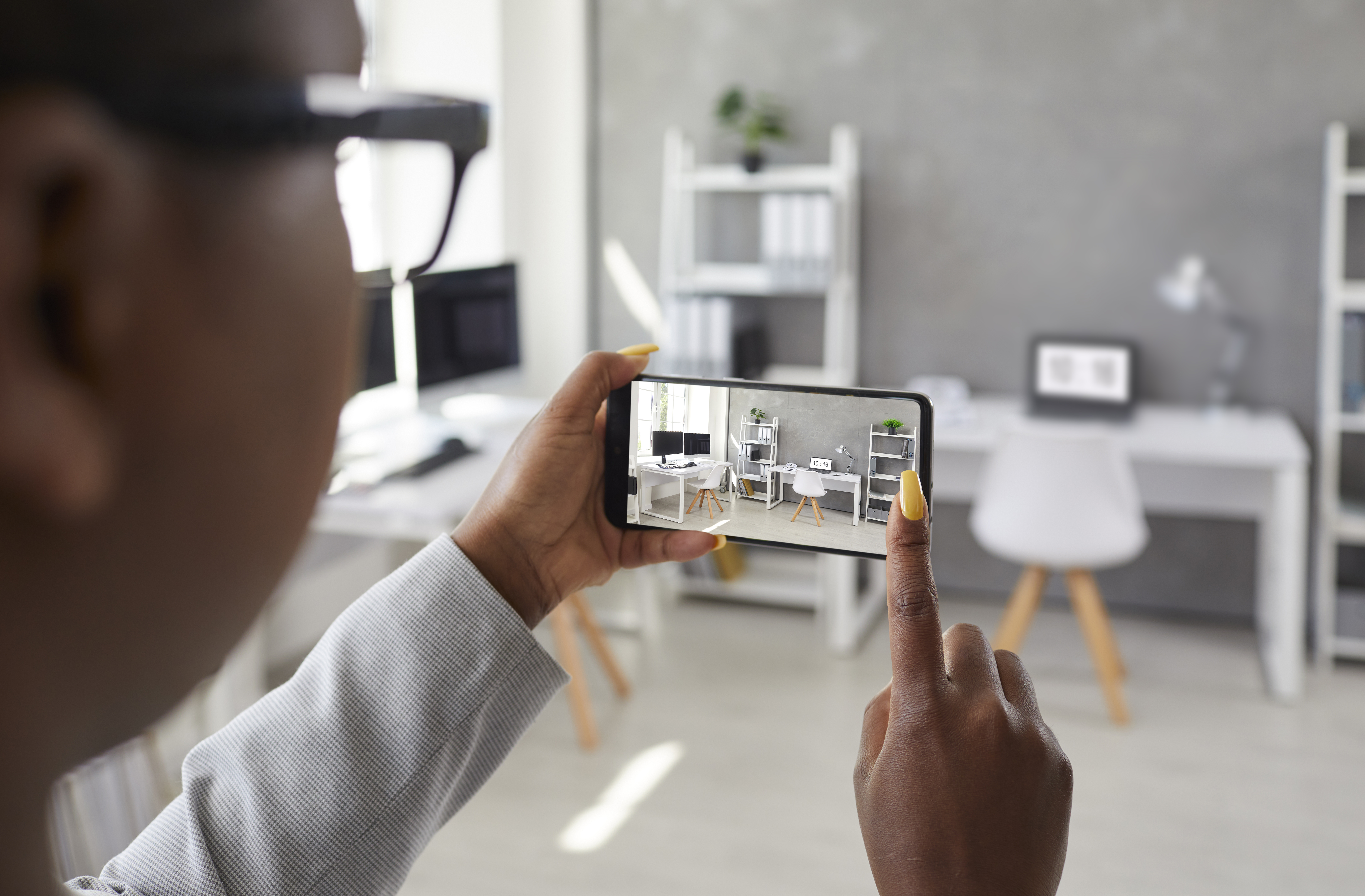 On January 10th updates were made to the Paragon 5 MLS system to improve functionality including:

1. Number of Photos
2. "Level – 2nd Upper" Feature Category"
3. Feature Field Name Change
Read More »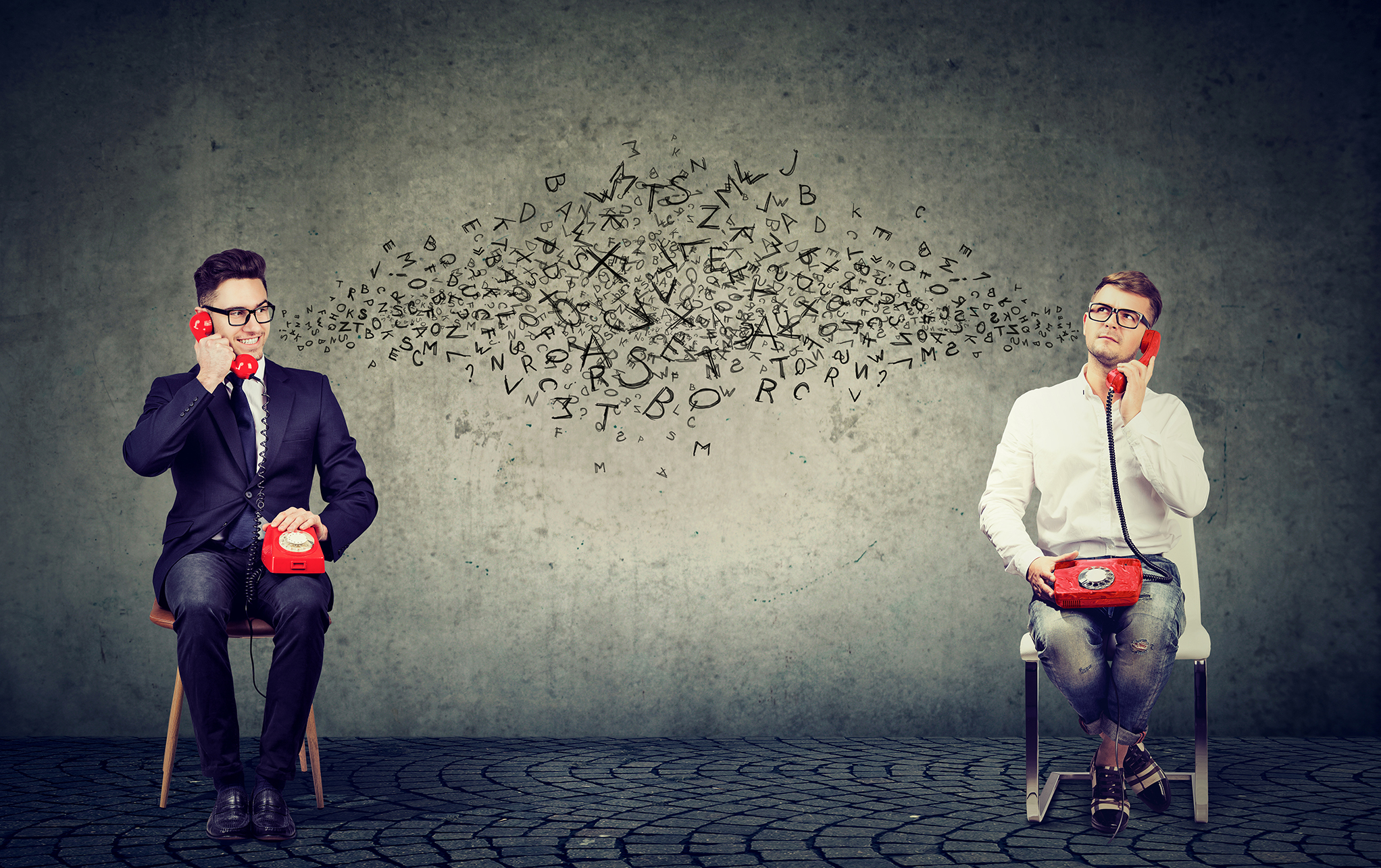 Non-legal ethics questions answered in a snap!

C.A.R.'s Ethics Infoline is helping members with all their questions from the tiny technical ones to the urgent "life-savers". If you would benefit from…
Read More »