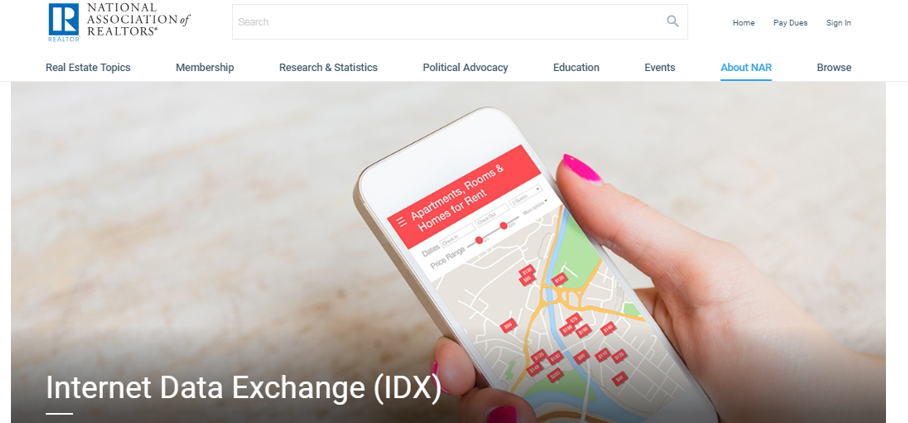 Internet Data Exchange is the framework that enables MLS participants and subscribers to automatically display each other's listings on their websites for public search. IDX is available from multiple vendors. Please review the list of authorized vendors and their products before selecting the one that's right for you.
Before using, please review MLS Rules & Regs sections 12.5, 12.11,12.15-18.
frequently asked questions
Can I get a link/frameable link?
Yes. Please utilize an authorized IDX vendor for this service.
How do I access IDX forms?
The appropriate paperwork is provided by authorized vendors. All paperwork must be channeled through your selected vendor.
I submitted paperwork today. Why isn't my website working?
Contact your in-house IT specialist or your IDX vendor for assistance.
Help! I cannot get Widget Alpha to work on my website.
Contact your in-house IT specialist or your IDX vendor for assistance.
How frequently does IDX update data?
Authorized vendors may pull new listing data up to six times a day, which may feel close to real-time. They are required to update listings within 12 hours of any MLS changes and updates.
Who do I send my IDX Request to?
If you are a CCAR MLS Participant or Subscriber your approved Vendor of choice knows where to send it. If you are not a  CCAR MLS Participant or Subscriber please contact your MLS.
How does site X get away with displaying ____ information?
Please report unauthorized usage to CCAR's MLS compliance team for review: [email protected].
What is VOW?
VOW or "Virtual Office Website" is a website belonging to a licensed brokerage that does not have a brick and mortar building (as explained below):
MLS Rules & Regulations, Section 12.19.1(a):
A virtual office website is a participant's internet website or a feature of a participant's website through which the participant is capable of providing real estate brokerage services to consumers with whom the participant has first established a broker-consumer relationship (as defined by state law) wherein the consumer has the opportunity to search MLS information, subject to the participant's oversight, supervision and accountability. A non-principal broker or sales licensee affiliated with a participant (i.e., subscriber) may, with his/her participant's consent, operate a VOW. Any VOW of a subscriber is subject to participant oversight, supervision and accountability.