CONTRA COSTA ASSOCIATION OF REALTORS®
WEEKLY NEWSLETTER | AUG. 29, 2023
CCAR WILL BE CLOSED MON., SEP. 4
IN OBSERVANCE OF LABOR DAY.

ALERT: CCAR's Member portal is down due to a cyber-attack on Rapattoni Corporation. Unfortunately, the ability to register for events and classes is unavailable until it can be resolved. However, training opportunities continue to be available and you can view a current schedule at instagram.com/ccar_education. You may also click on the links below to register for upcoming classes. 
The Referral Coefficient – Marketing Roadmap to Reap Deals with Jason Pantana
Wed., Aug. 30  |  9:00 – 10:00am
Creating the Perfect AI Prompt
Wed., Aug. 30  |  1:00 – 2:00 pm

Help Your Buyers & Gain More Clients with New Builds
Thu., Aug. 31  |  8:30 – 9:30am  

Maximize Your Online Profile: RateMyAgent Onboarding Webinar
Thu., Aug. 31  |  9:00 – 9:45am

Grow Your Business with Homes.com (formerly Homesnap)
Thu., Aug. 31  |   11:00 – 11:30am

Wise Agent CRM Overview & Demo
Fri., Sep. 1  |  9:00 – 9:45am

Buyer's Agent Features in Paragon Connect
Fri., Sep. 1  |  11:00 – 11:30am

The NEW CA Residential Purchase Agreement
Tue., Sep. 5  |  10:00 am to 1:00 pm

zipForm Edition Basics
Tue., Sep. 5  |  10:00 – 11:00am

Creating Time-Saving Templates in zipForm
Tue., Sep. 5  |  12:00 – 1:00pm

REALTOR® Safety Day Live Stream
Thu., Sep. 7  |  10:00 am – 12:00 pm
Visit the CCAR Calendar to view/register for additional online training opportunities.

CONGRATULATIONS BOWLING FOR THE AMERICAN DREAM WINNERS!
1st Place: Stokely Team – Joseph Stokely, Adrian Ramirez, Blake Demale, and Melissa Lucchese

2nd Place: BHHS Drysdale Properties – Wendy Moore, Caryn Azevedo, Gretchen Pearson, and Dan Pearson
3rd Place: "No Name" Lane 9 Team – Lloyd Steere, Christine Sinclaire, Curtis Fleming, and Anna Ruotolo
Best Individual Score: Lloyd Steere with a score of 192
B Walker ranch – BBQ BASH HOEDOWN – Sep. 8 
Save the date: Oktoberfest
Affiliate Faire – Sep. 26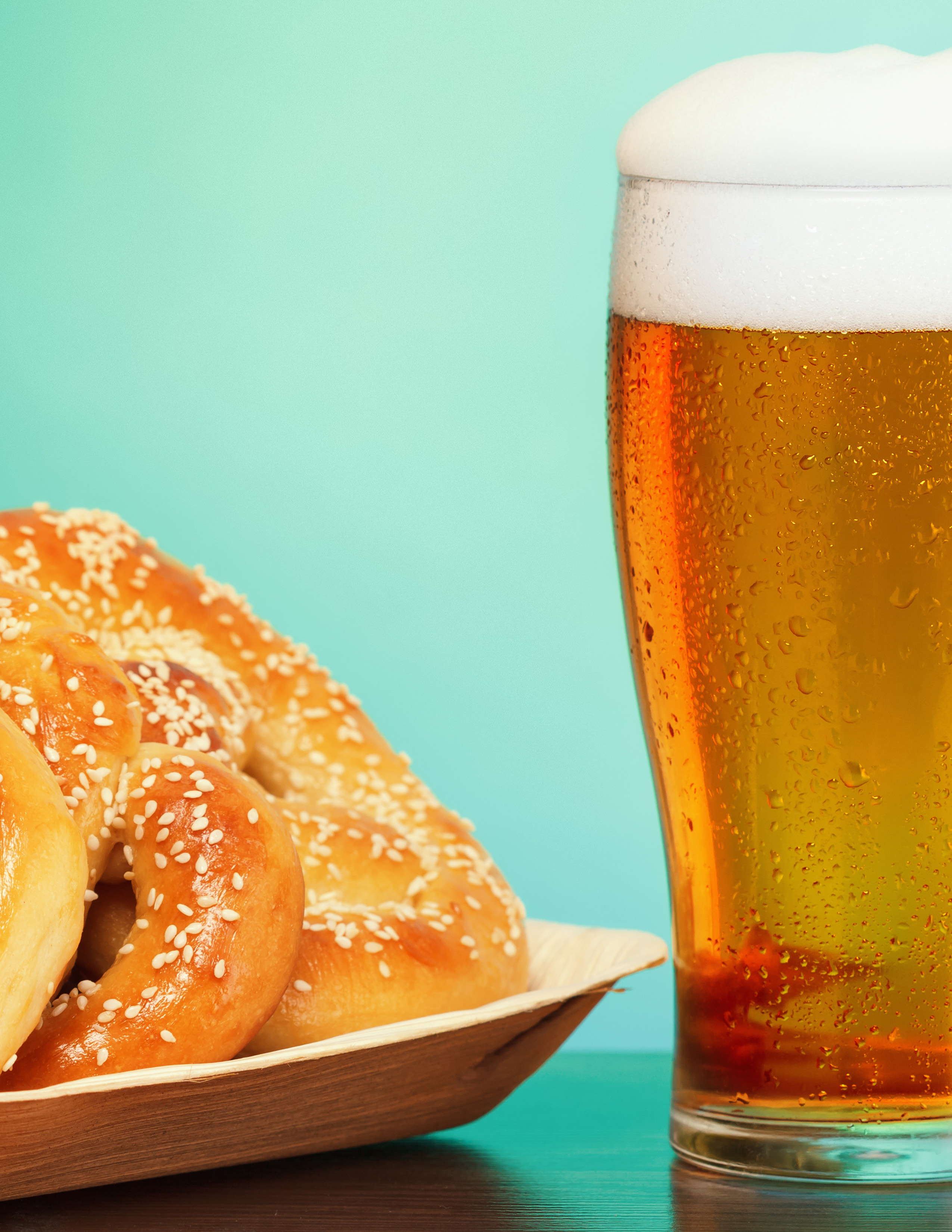 Registration and Sponsorships coming soon.
REALTOR® Safety Day Live Stream Event – Sep. 7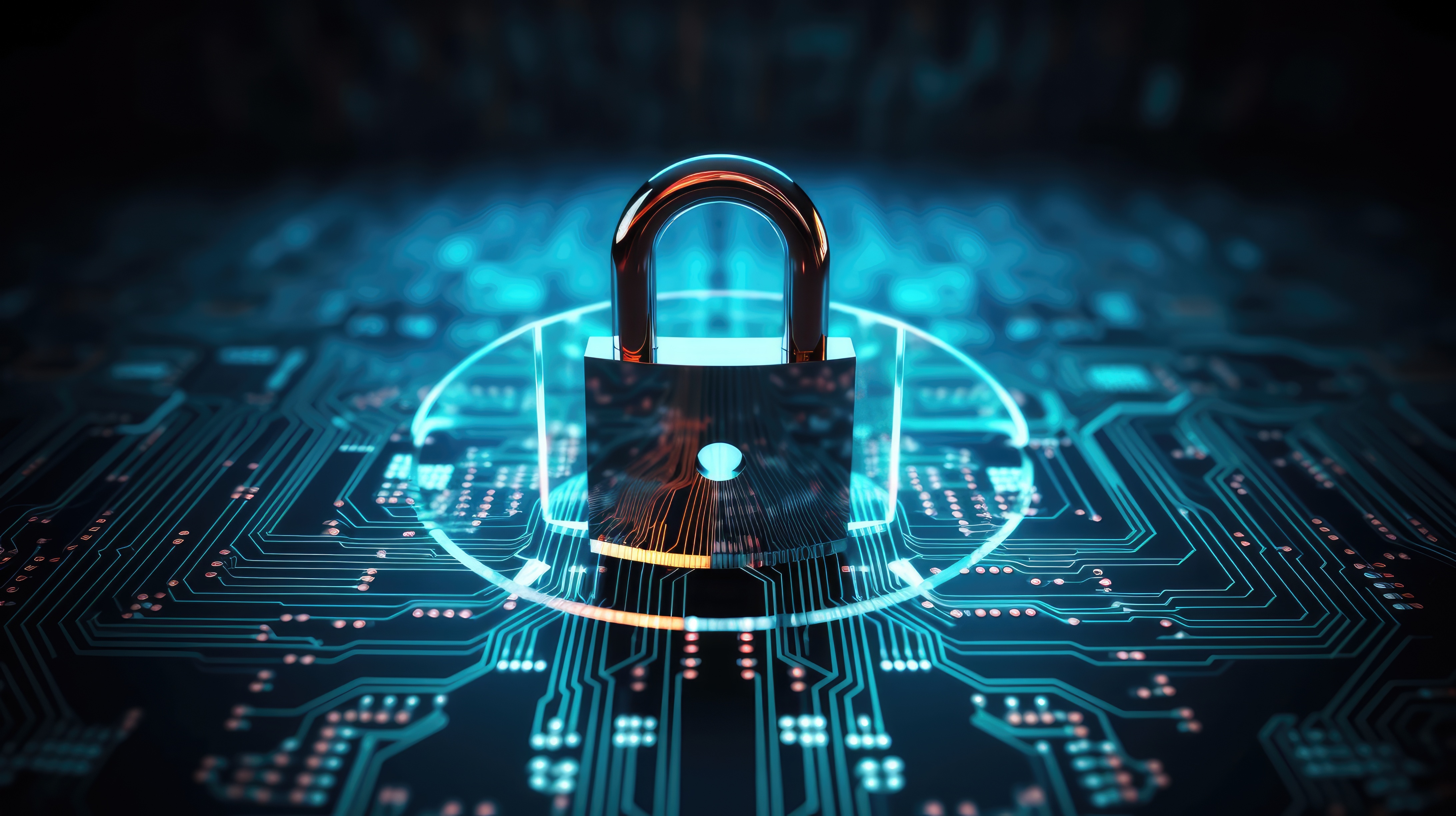 As a real estate professional, the challenges of ensuring the safety of yourself, your business, and your clients are ever present and continually evolving. 
Join us for RE Events' REALTOR® Safety Day next Thursday, September 7 from 10:00am – 12:00pm! This live stream event features industry experts and leaders who will provide you with insights and proactive safety measures you can learn from and implement right away.
We're encouraging office watch parties of this important event, to cultivate safer work practices for all. Your participation can make a significant difference!
You will learn:
• Personal Safety and Active Shooter Awareness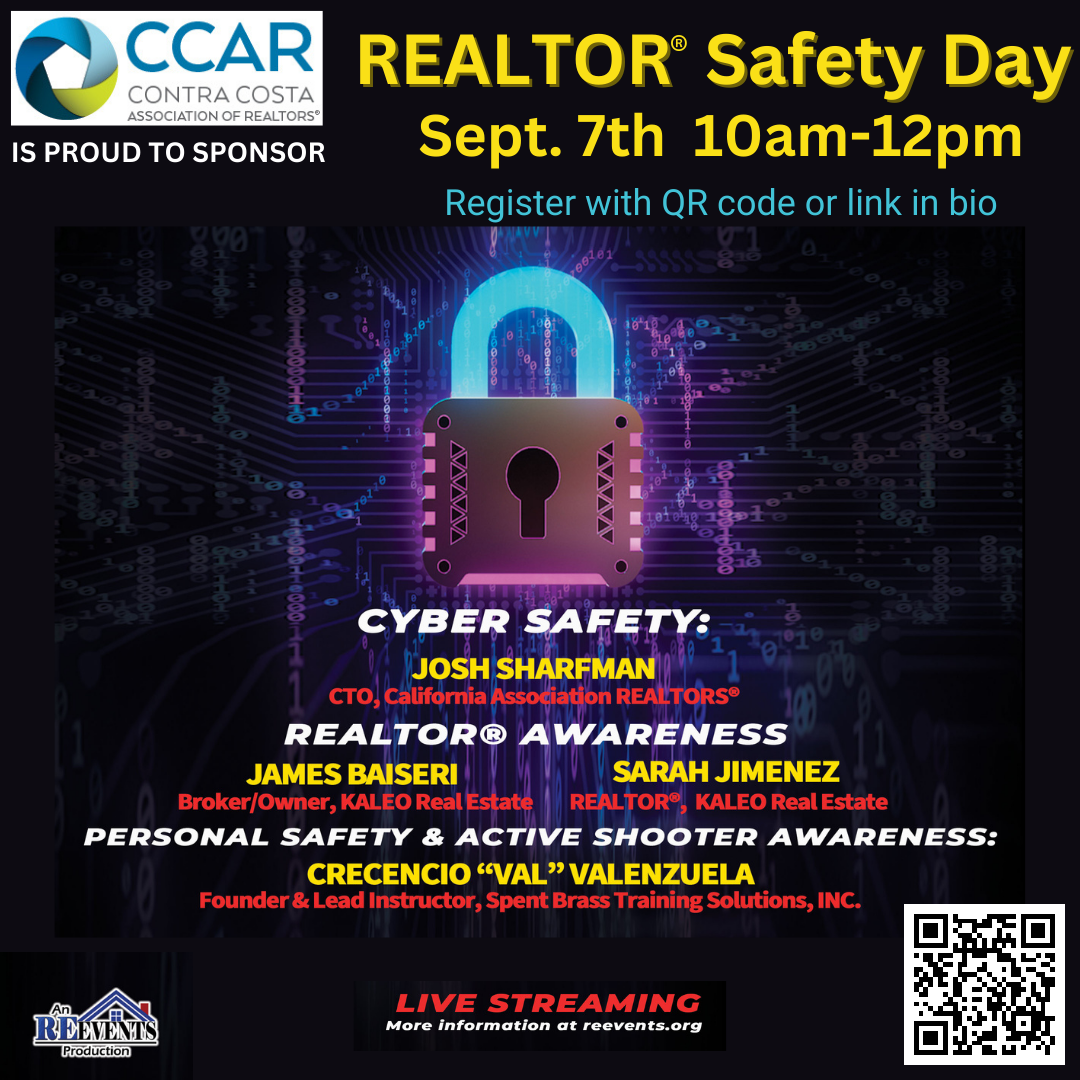 Val Valenzuela, Founder and Lead Instructor –
      Spent Brass Training Solutions, Inc. 
• Cyber Security
      Josh Sharfman, CTO – C.A.R.
• REALTOR® Awareness
      James Baiseri, Broker & Sarah Jimnez, REALTOR®
• and much more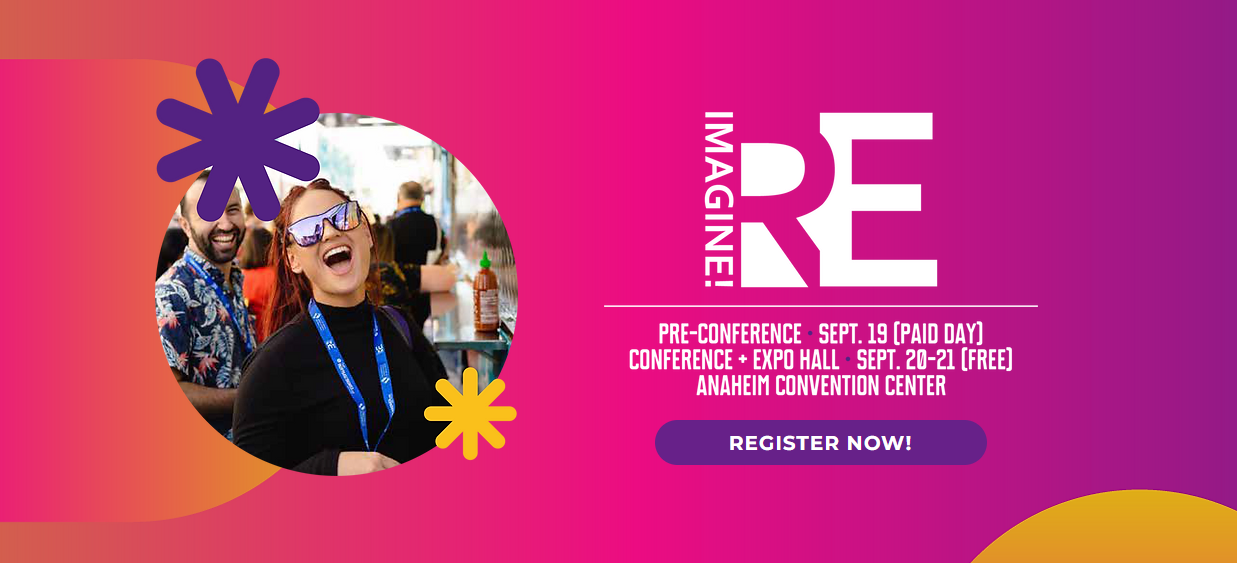 Learn from speakers comprised of top company executives, social media and marketing experts, successful practitioners, industry leader and innovators at this FREE, FUN, educational, experience in Anaheim, to stay ahead in your business!

Learn valuable and essential information for your business from CEOs, VPs, thought leaders, subject matter experts and top producers. Whether you're a new agent or an industry veteran, you'll walk away with actionable takeaways, new perspectives and a wealth of information.

REGISTER >>
Read More >>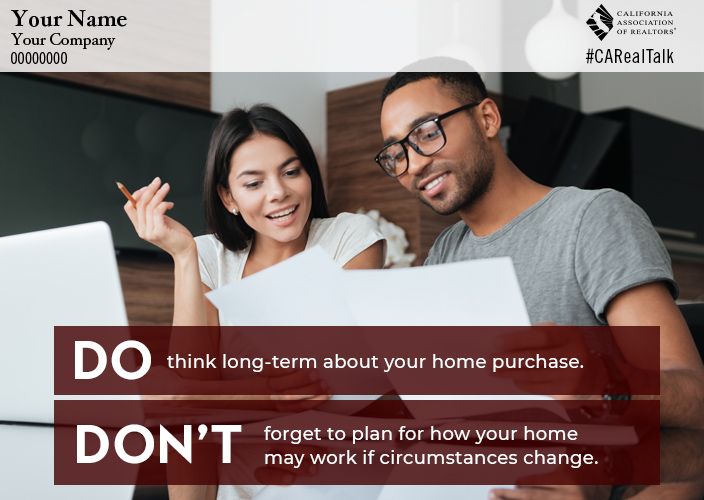 A lot goes into buying and selling a home, and who knows that better than a REALTOR®?

While every home is different, some things are always true. As a REALTOR®, you're the expert, and to help demonstrate that, C.A.R. has created some simple buying, selling, and staging dos and don'ts for you to share. Check them out, personalize one of theirs, or even customize one of your own.

PERSONALIZE A C.A.R. TEMPLATE >>

WRITE YOUR OWN RECOMMENDATION >>
Read More >>
POSTPONED: 2023 MLS Survey
You will soon have the opportunity to provide feedback regarding the MLS you use every day! Keep an eye out for updates and when to check your email for a link to the survey.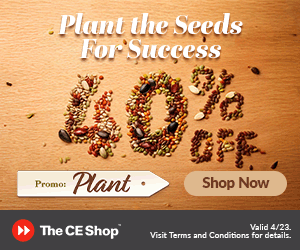 TURNING REVIEWS INTO NEW LISTINGS: Using reviews in marketing & Sales
Never underestimate the power of a positive client review. They aren't just testimonials; client reviews are powerful tools that can help you generate new leads and grow your business.
START A 14 DAY FREE TRIAL >>
WCR – FASHION SHOW GALA – OCT. 29
MLS "AREA" Field Change Notice – Nov. 6, 2023
Effective November 6, the "AREA" field lookup values will be updated to a single lookup value called "Listing". This means that instead of selecting various "AREA" options, you will now see one "Listing" value. We want to ensure that you have a clear understanding of how this change will impact your workflow.
Action Required – Update Your Saved Searches
To avoid your clients receiving unnecessary email notifications, we kindly request you to update all your Active Saved Searches that currently use the "AREA" field. You can use the following alternative fields instead: "Map Search," "City," or "Zip Code." By making these updates before November 6th, you will prevent your clients from being bombarded with emails due to the change.
Will the AREA field still be required while entering a listing?
No, this field will no longer be required for listing entry.
What alternative fields can you use?
1. Map Search
2. City
3. Zip Code
Why are we making this change?
The decision to update the "AREA" field was driven by several factors:
1. Data Compatibility: As we integrate data from various MLSs into Paragon, we face challenges in maintaining a one-to-one match with each MLS's "AREA" definitions. Different MLSs may use different terms such as District, Neighborhood, or Subdivision for their "AREA" field.
2. Outdated Field Design: The "AREA" field and its locations were created almost two decades ago, and we recognize that it no longer aligns with current best practices and user expectations.
3. Ease of Use: Some agents reported encountering error messages when using the "AREA" field due to a lack of familiarity with it.
Why do I still see the AREA field in the MLS?
Although we understand that you might still see the "AREA" field within Paragon, please be assured that the only available value will be "Listing." We acknowledge this limitation and have already requested our MLS Vendor to remove the field entirely in future enhancements.
Unique Areas:
For those unique "Area's" such as Blackhawk, Rossmoor, Hayward Hills, etc.. You can leverage the "Zip Code" field for all but Rossmoor. For those agents who specialize in Rossmoor we have created a "Map Layer" solution for your searching needs. To utilize the "Map Layer", open the map and click on "Open Map Layer Panel" icon and check the box for "ROSSMOOR – WALNUT CREEK" then run search or add to criteria.

We appreciate your cooperation and understanding during this transition. By embracing these changes, we can enhance the efficiency and accuracy of our MLS system, benefiting all members.