CONTRA COSTA ASSOCIATION OF REALTORS®
WEEKLY NEWSLETTER | NOV 7, 2023
FEATURED: C.A.R. Legal: New Laws for 2024
Tue., Nov. 14  |  1:30pm – 2:30pm    
Accurate Property Pricing with RPR's CMA Tools
Wed., Nov. 8  |  9:00am – 10:00am
C.A.R.: Transact More to Make 2024 your Best Year Yet
Wed., Nov. 8  |  10:00am – 11:00am
NAR: Financial Considerations for Rental & Investment Properties
Wed., Nov. 8  |  11:00am – 12:00pm
Help Your Buyers & Gain Clients with New Builds
Wed., Nov. 8  |  12:00pm – 1:00pm
Rental Transactions in zipForm
Thu., Nov. 9  |  9:00am – 10:00am            
NAR Litigation Update – C.A.R. Attorneys Answer Your Questions
Thu., Nov. 9  |  10:00am – 11:00am         
Tax Moves to Slash Your Taxes
Thu., Nov. 9  |  10:00am – 11:00am         
Getting to Know Paragon MLS
Thu., Nov. 9  |  2:00pm – 4:00pm              
NAR Litigation Update – C.A.R. Attorneys Answer Your Questions
Fri., Nov. 10  |  10:00am – 11:00am         
Weekly WomanUP!® Live
Fri., Nov. 10  |  2:00pm – 3:00pm              
Improve Your SEO Scores to Get Found
Mon., Nov. 13  |  11:00am – 12:00pm     
Supra eKEY Basics
Tue., Nov. 14  |  8:30am – 9:30am            
AI-Powered Real Estate: Strategies for Success
Tue., Nov. 14  |  10:00am – 11:00am       
C.A.R. Legal: New Laws for 2024
Tue., Nov. 14  |  1:30pm – 2:30pm            
SupraWEB Agent Reports, Notifications and More
Wed., Nov. 15  |  8:00am – 9:00am          
The CA Residential Purchase Agreement (RPA)
Wed., Nov. 15  |  10:00am – 1:00pm       
The Importance of Client Reviews
Wed., Nov. 15  |  10:30am – 11:30am     
Powerful Prospecting with RPR®
Wed., Nov. 15  |  11:00am – 12:00pm
Buyers Agent: Sending Auto Email Notifications (Collab Center)
Wed., Nov. 15  |  2:00pm – 4:00pm          
Intro to zipForm Edition (Lone Wolf Transactions)
Thu., Nov. 16  |  2:00pm – 4:00pm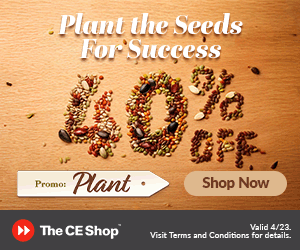 Visit the CCAR Calendar to view/register for additional online training opportunities.
NAR Litigation Update:
Live C.A.R. Attorney Q&A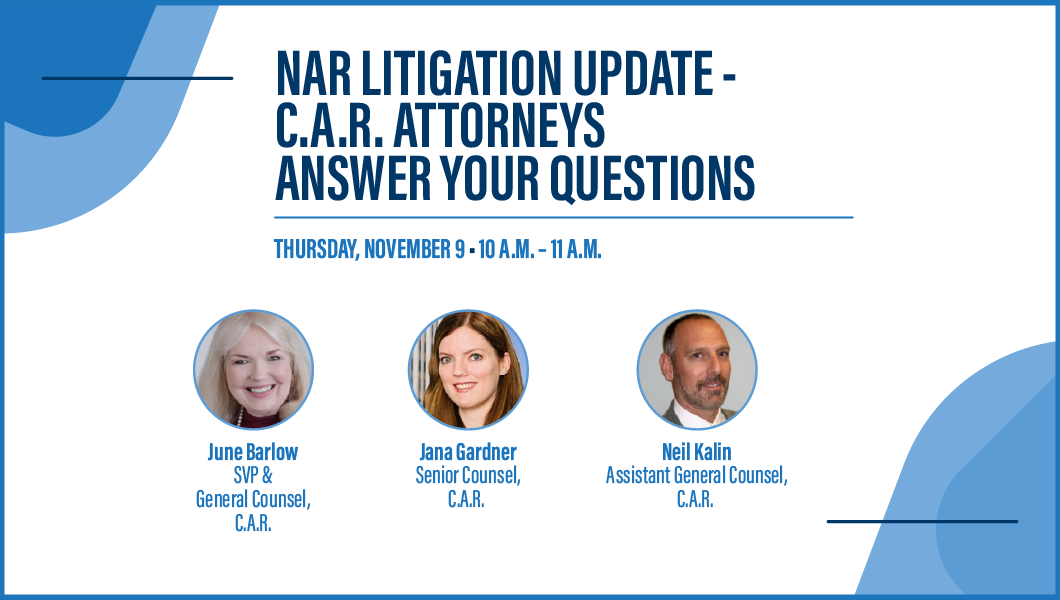 Thu., Nov 9: 10:00 – 11:00am  |  Fri., Nov. 10: 10:00 – 11:00am
C.A.R.'s legal team will provide clarity on the Burnett v. NAR et al case– what you need to know about the verdict, its potential effect on the real estate industry and how it may impact your business and consumers.
FREE Buyer Representation Forms Online Course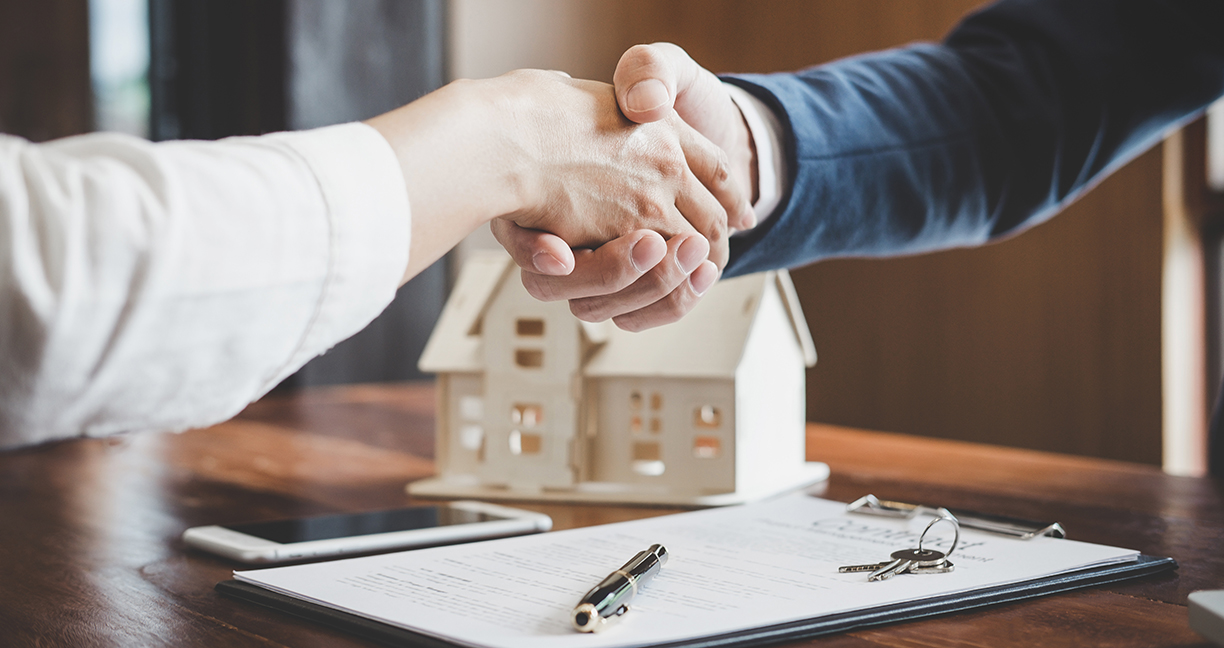 Learn about the C.A.R. buyer representation forms and find out how you can incorporate them into your business, overcome objections that you may encounter, and strengthen your relationship with buyers. C.A.R. is making this online course FREE if you register by Dec. 31, 2023 and you will have up to 1 year from the date of registration to access and complete the course.

REGISTER HERE >>
Use code FREE25 at checkout
Save the Dates: 2023 Holiday Events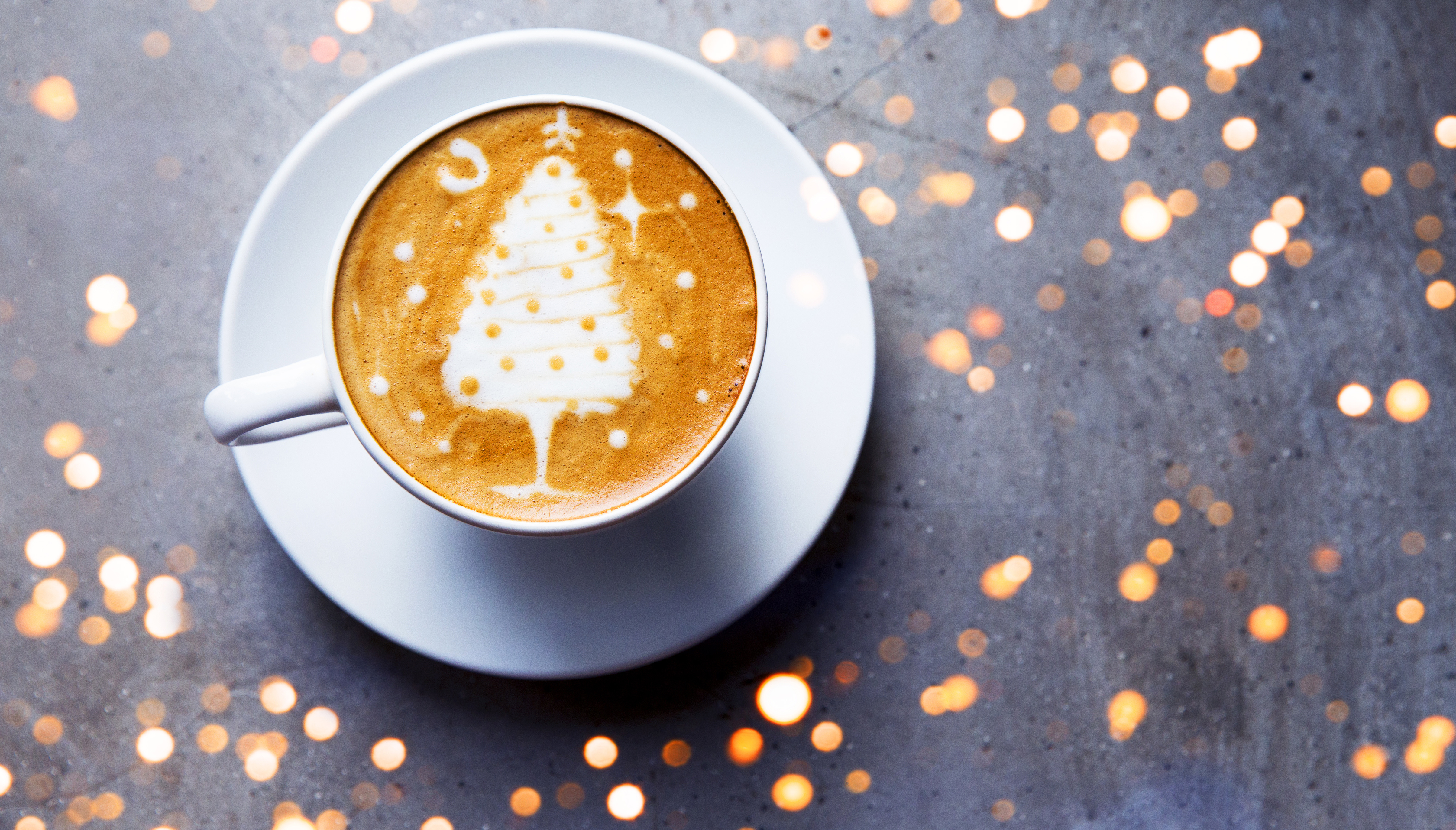 40th Annual Christmas CanTree Holiday Buffet
Thu., Nov. 30  |  5:30pm – 10:00pm
View the Flyer

14th Annual Coats & Cocktails
Fri., Dec. 1  |  5:00pm – 10:00pm
View the Flyer
CCRIM: Channel the Flannel
Tue., Dec. 12  |  8:00 – 10:00am
View the Flyer

RMA: Holiday Party
Thu., Dec. 14  |  8:00 – 10:30am
You're Invited! 2024 Inaugural – Sat., Jan. 13th
Tickets on Sale Now!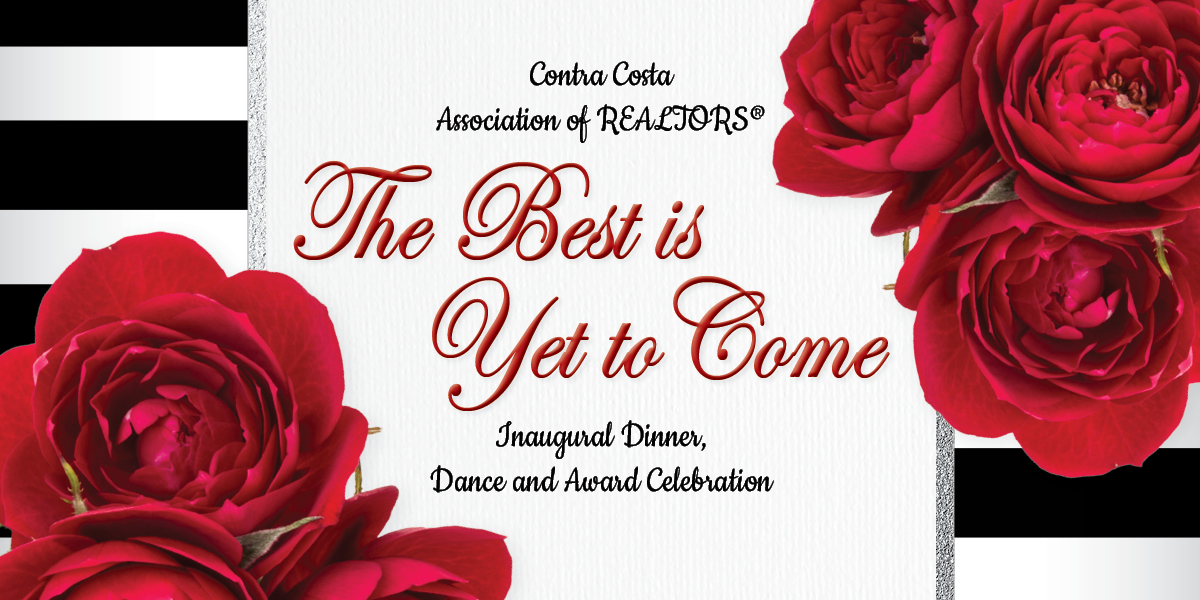 Delight in a night of elegance and achievement at the Blackhawk Auto Museum on Saturday, January 13th for our annual Inaugural Dinner, Dance, and Award Celebration.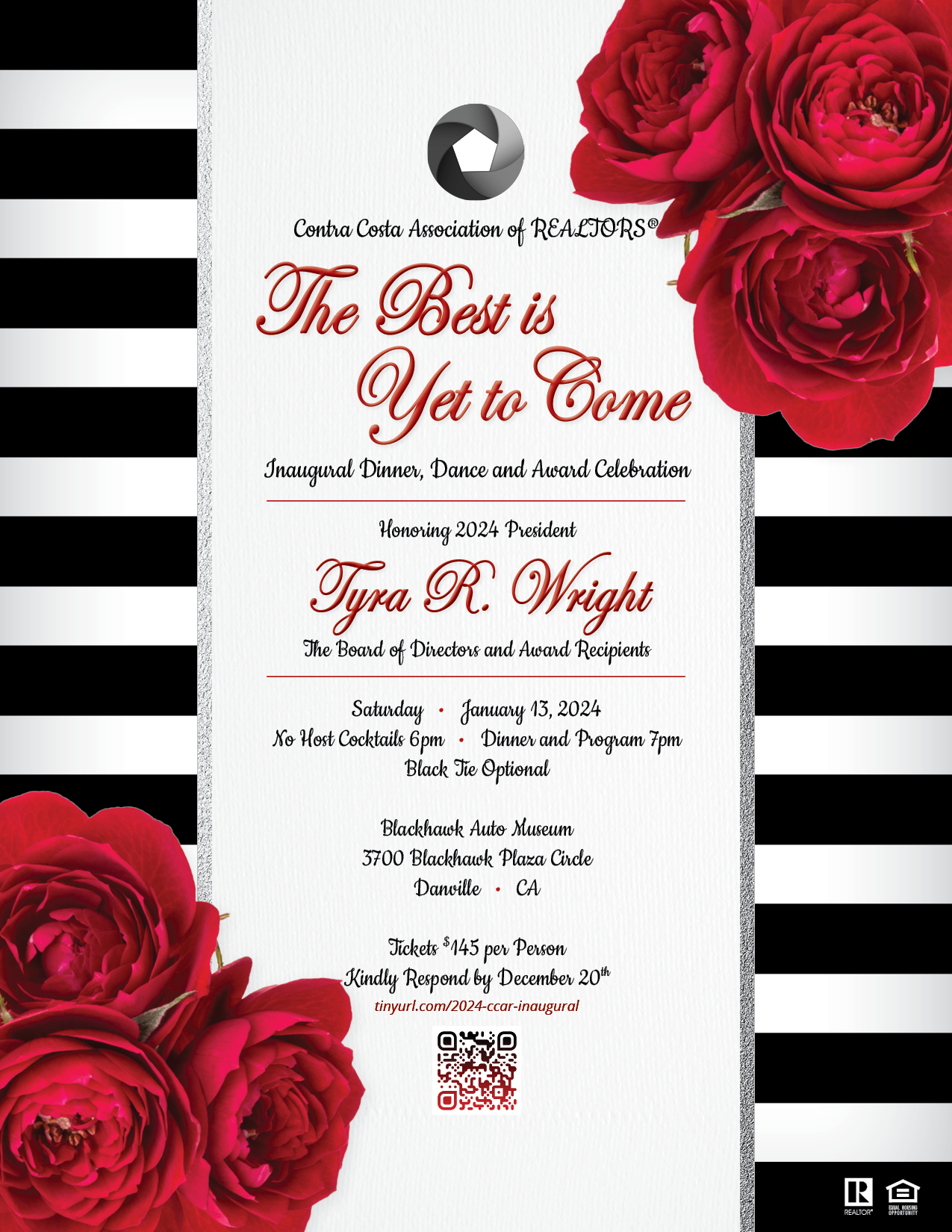 This festive event, themed "The Best is Yet to Come," acknowledges that 2024 will undoubtedly pose challenges in the real estate industry. However, with leadership's guidance, navigating these challenges will not only be a testament to our resilience, but also serve as steppingstones toward unlocking even greater opportunities and possibilities.
Please join us in honoring Incoming President Tyra Wright and the 2024 Board of Directors, as well as the presentation of awards for outstanding achievements in Community Service, REALTOR® excellence, Affiliate contributions, and Emeritus Member of the Year. Reserve your tickets today and be a part of our celebration of success and camaraderie.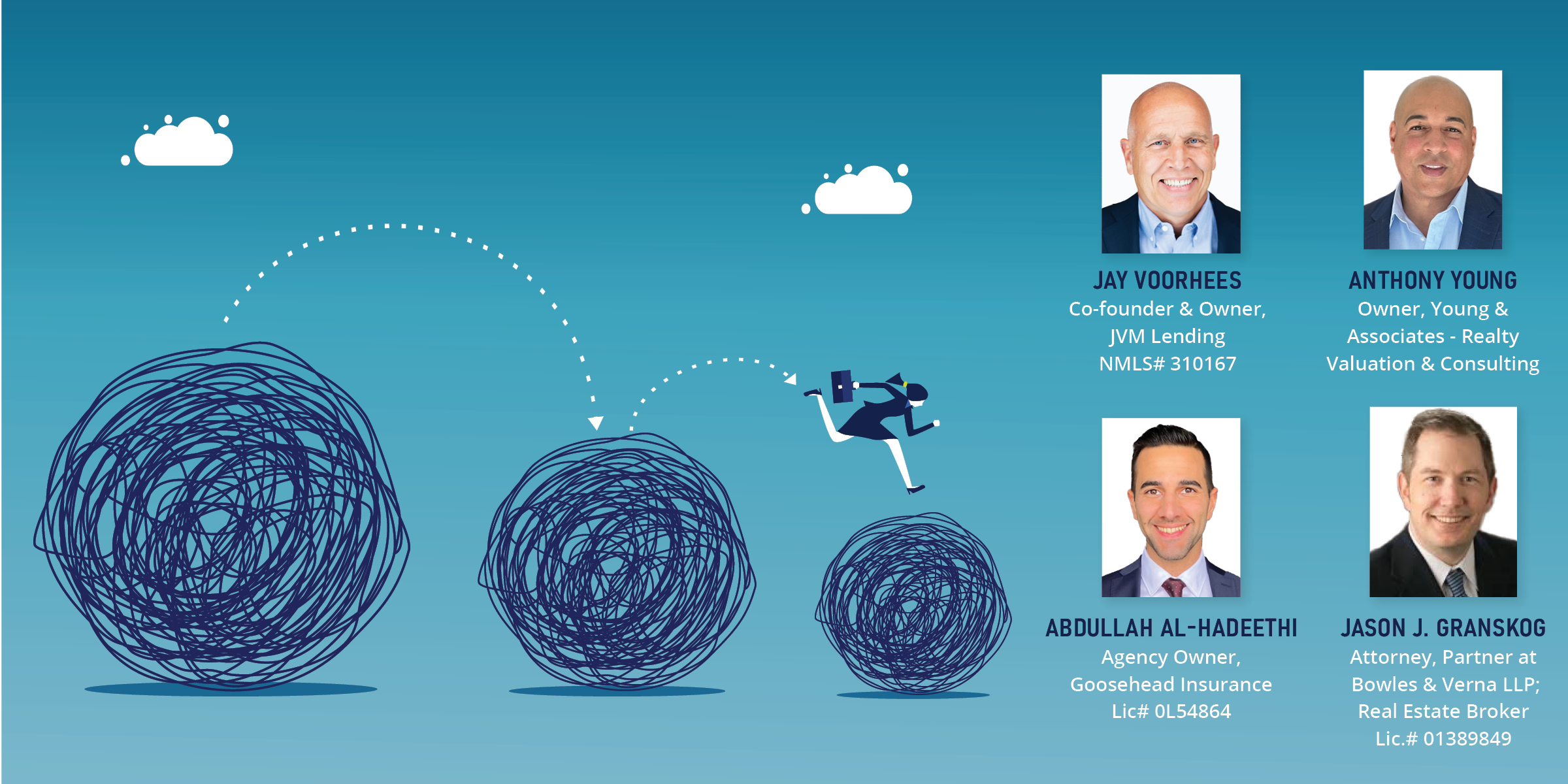 Join CCAR YPN on Nov. 29 from 10:30am – 1pm at the Lafayette Library: Don Tatzin Community Hall for a dynamic Lunch and Learn session featuring a panel of real estate industry experts ready to unravel the complexities of today's market.

Discover firsthand insights into current market trends as industry leaders share their expertise, gain heightened awareness of challenges affecting your business and explore effective solutions. You will benefit from a wealth of experience, with over 50 years of combined wisdom from seasoned industry.

PURCHASE TICKETS >>
Read More >>

Celebrate the season with joy and generosity at CCAR's Annual Christmas CanTree Buffet on Thu., Nov. 30 at the Richmond Country Club—an enchanting tradition that not only promises festive fun but also makes a meaningful impact for the Bay Area Rescue Mission!

Indulge in the holiday spirit with a delicious prime rib buffet and delectable cake auction. Cheers to the season with a no-host bar, creating an atmosphere of warmth and camaraderie. This lively setting includes raffles and an auction boasting fabulous prizes, providing the perfect start to your holiday shopping, with the chance to win incredible gifts!

PURCHASE TICKETS >>
Read More >>
Paragon MLS Change – Agent "Related/Ownership" Fields
On December 4th, the feature lookups "Agent Related to Principle" & "Agent has Ownership" will be removed from the "Feature" sections and will become unique fields in listing input as well as displayed on the 2-Page Agent Report.
If you have any questions please contact CCAR Member Services at [email protected] or 925.295.1270.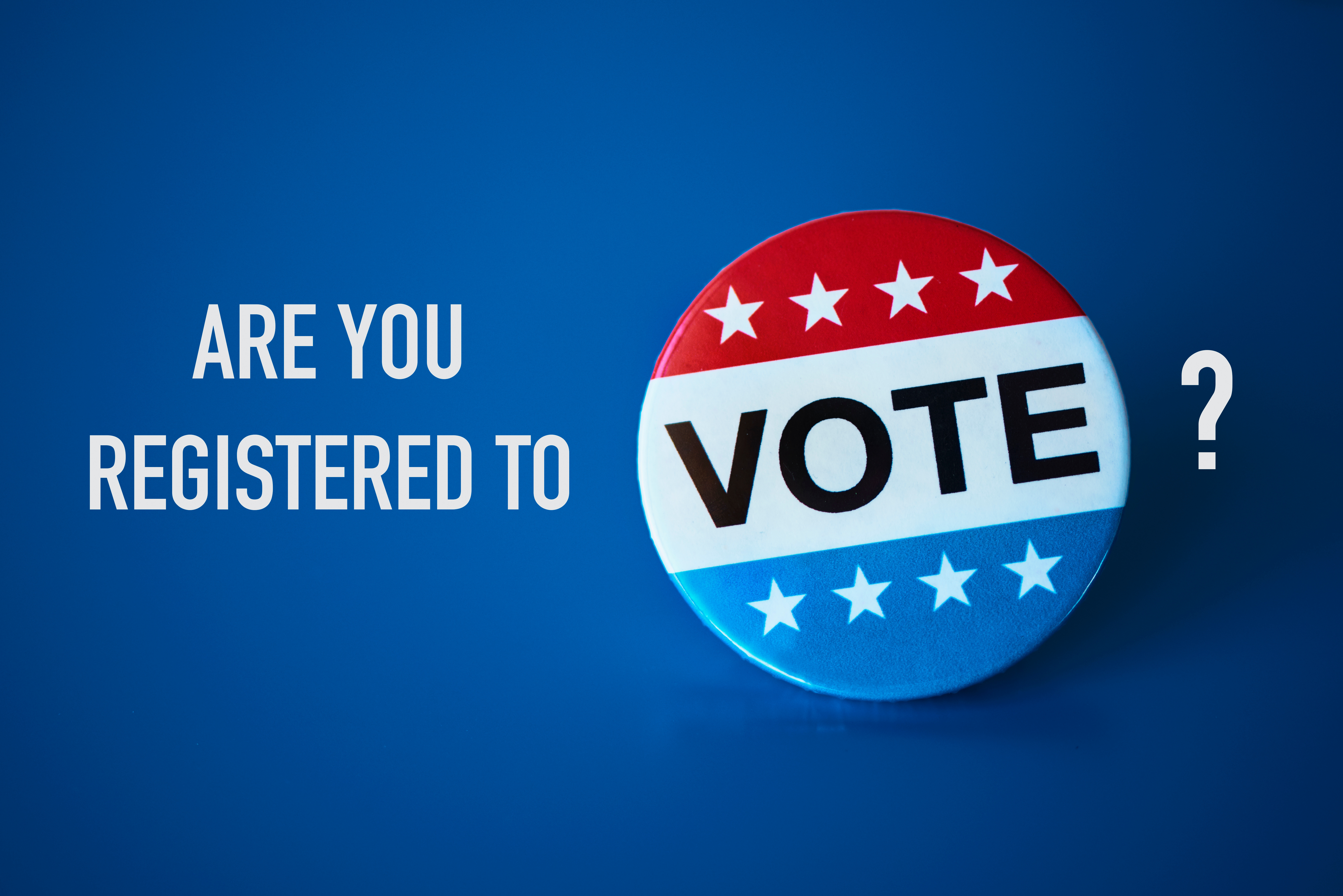 In California, the deadline to register to vote for any election is 15 days before Election Day, so please register early!
REGISTER HERE >>
NEW REALTOR® OPTIMIZED LAPTOPS
FOR SALE
MLS Rules Change (7.12 Unilateral Contractual Offer; Sub-agency Optional) – Dec. 1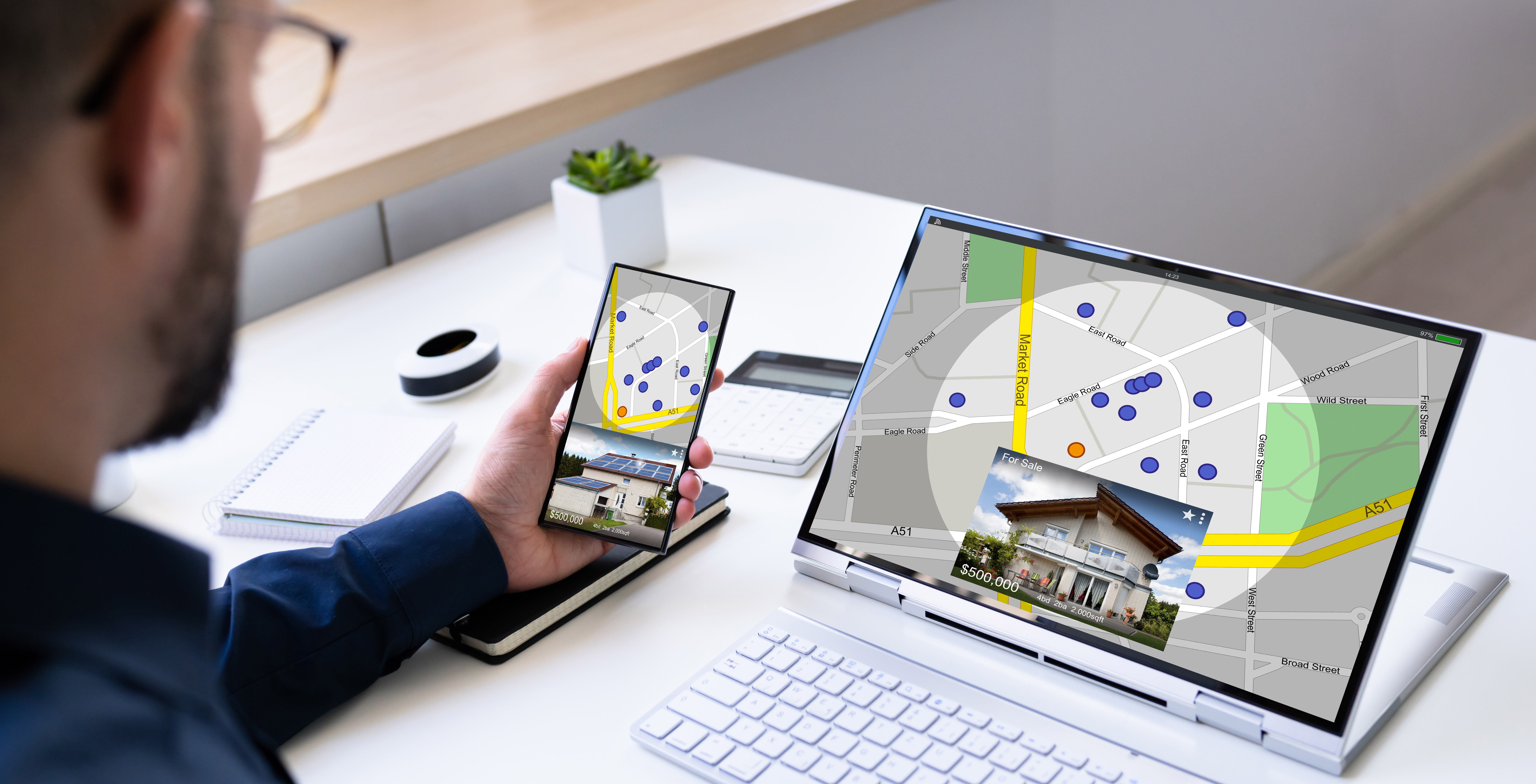 On December 1st, the below MLS Rules & Regulation changes will go into effect. 
7.12 Unilateral Contractual Offer; Sub-agency Optional. In filing a property with the MLS, the broker participant makes a blanket unilateral contractual offer of compensation to the other MLS broker participants for their services in selling the property. Except as set forth in Rule 7.15 below a broker participant must specify some compensation to be paid to either a buyer's agent or a subagent and the offer of compensation must be stated in one, or a combination of, the following forms (1) a percentage of the gross selling price; or (2) a definite dollar amount of zero or greater. The amount of compensation offered through the MLS may not contain any provision that varies the amount of compensation offered based on conditions precedent or subsequent or on any performance, activity or event. In the event there are any service fees or administrative…