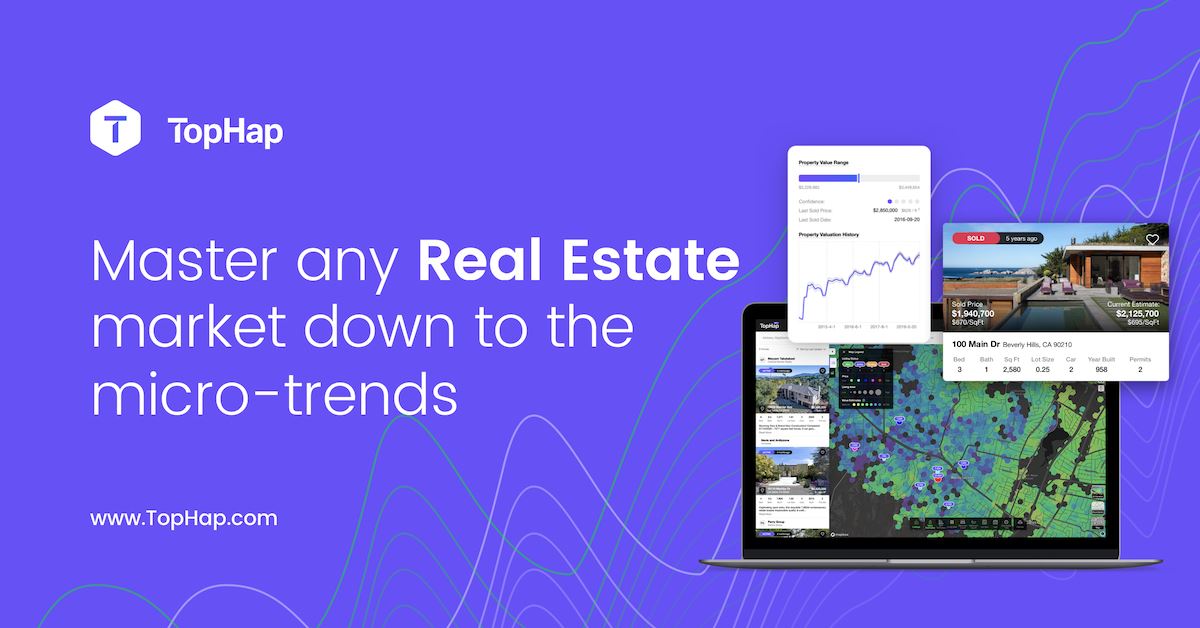 TopHap is a market intelligence platform for residential Real Estate. Utilizing AI and machine learning (ML) to visualize residential real estate market trends, conditions and characteristics of neighborhoods and properties.
As a CCAR Member Benefit enjoy the Basic ($15) tier and TopHap Explorer App at no cost. Upgrade to the Pro ($50) or Expert ($155) tiers at a 20% discount.
TopHap has compiled the most comprehensive collection of data ever to be integrated into one real estate platform. This state of the art ML and visualization techniques deliver the most robust and accurate residential real estate assessment tools in the industry.
Simply put, TopHap pulls the curtain back and shows you what makes real estate worth what it's worth. With TopHap, you can harness the power of data and analytics to build trust and confidence in your real estate advice and decisions.
Gain Market Knowledge. Master any market by uncovering micro-trends and insights that drive property values.
Save Research Time. Investor-grade analysis tools enable you to save time while researching local and unfamiliar properties and markets.
Expand Your Territory. Grow your business by gaining confidence outside of your home territory. Easily analyze any property, neighborhood, city, zip, or county across California.
Build Trust & Confidence. Harness the power data and AI to build trust and confidence in real estate decisions and advice.
Gain Competitive Advantage. Position yourself as a real estate expert in any market with the most comprehensive real estate analysis tools to show your clients what the internet can't.
Visual Market Analytics. Powerful analytics and visual layers enable you to uncover insights about regions, neighborhoods, and individual properties in seconds.
TopHap Value Estimate. TopHap's cutting-edge valuation model (AVM) uses billions of data points to provide the most accurate property value estimates in the industry.
TopHap CMA+. TopHap's investor-grade comparison engine enables you to see diverging micro-trends, compare regions, and evaluate historical changes to markets and properties.
Off-Market Research. Identify properties that aren't listed on the MLS with targeted search criteria to be in the know in any market.
3D Lot Topography. Visually examine lot usability, topography and elevation without the need to visit the site