Make client reviews your most powerful marketing tool!
Demonstrate your experience and sales ability.
RateMyAgent will help you get more client reviews with their Easy Review service, which requires no client sign-up and achieves a 65% success rate. Plus, RateMyAgent helps connect agents to multiple platforms such as Google to share their reviews, which means the more reviews shared the more success agents will have at being found first by a client!
RateMyAgent will help you accelerate your business by:
Helping you grow your business on Google
RateMyAgent works hard to increase your reviews on Google, the more reviews we can get you the better chance you have of being found first!
Making reviews easy for you and your client
With no client sign-up required RateMyAgent sees on average a 65% response rate for completed reviews – no more constantly chasing clients for reviews.
Building your reputation and credibility
RateMyAgent will make sure your reviews are visible across multiple platforms from Facebook to Google, helping you to build trust with new potential clients
A simplified marketing tool created to help you win your next client
You don't need to spend hours figuring out how to use multiple systems, everything you need is all in one place.
Putting in Less effort for more reward
With one simple set up, RateMyAgent will be sure to set you up on autopilot, helping you grow your business by marketing happy client reviews to new clients.
Claim your profile, report your results, and request reviews from your clients.
RateMyAgent teams up with Realtor.com®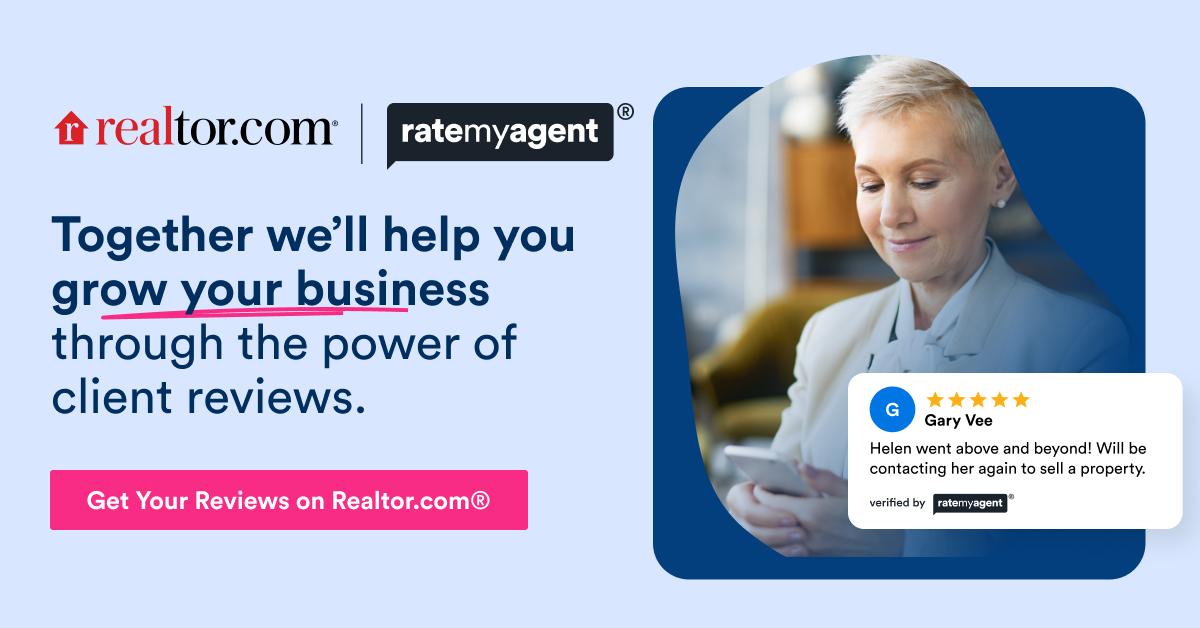 RateMyAgent has teamed up with Realtor.com® to help you grow your business through the power of happy client reviews. Did you know 82% of clients will call only ONE agent before selecting their listing agent! The more reviews you get the more likely a new client will find you first, making you that first call.
RateMyAgent's partnership with Realtor.com®  will amplify your reputation and help you stand out against the competition to win new business!