Members Drive Fundraising to New Highs
Often, when CCAR REALTORS and Affiliates come together–for Association events, or social engagements–they make a point to collect funds for charity. Their generous spirit of giving is the driving force behind nearly a dozen annual fundraising events that yield hundreds of thousands of dollars every year for special causes like the Helping Hands Fund, the CCAR Scholarship Foundation and other community-based philanthropic organizations. "Giving back" is part of CCAR members' DNA and they carry on a rich legacy of service to the community dating back nearly 100 years.
Fundraising events yield thousands; dollars continue to increase…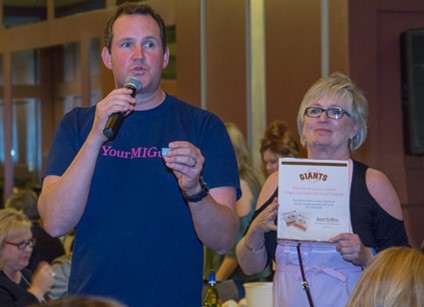 CCAR Crab Feed another sellout event
CCAR's most popular annual fundraising event filled tables to capacity with members angling for crab and exciting auction items.
In 2019 alone, CCAR members raised more than $110,000 for charity, helping more than a dozen local students with college tuition. Through CCAR Helping Hands, members provided financial assistance to fellow REALTORS® and citizens experiencing difficult personal, medical and financial crises.
Christmas CanTree Auction
The Helping Hands Fund provides thousands of dollars in financial assistance to CCAR members, their families and members of the community who have experienced prolonged illness, accidents or other catastrophic events.
Every year, the CCAR Scholarship Foundation awards educational grants to local college and university students studying finance, business, marketing and real estate.
"Committee members and staff did an absolutely outstanding job this year hosting another sellout event," said Affiliate and Events Committee Chairman Nathan Mahlik (State Farm, Danville) of the Crab Feed in March.
"With ticket sales and  live auction proceeds totaling more than 15-grand, this was one of our most successful fundraisers benefiting the CCAR Scholarship Foundation and the Helping Hands Fund," added Vice Chair John Fondnazio (Dudum Real Estate Group).
Guests enjoyed nearly a half-ton of fresh Dungeness crab (yes! we did the math!) and a bounty of sides. Evening highlights included a live auction in which guests competed for unique items ranging from Warriors memorabilia, to wine packages, to golfing packages and a Tahoe vacation rental. Party favorite, DJ Stallion provided dance music until closing.
Special thanks go to major sponsors: bar sponsors Bay Equity, MGIC and Dudum Real Estate Group; music sponsored by Safe Credit Union. Dessert sponsored by State Farm. Thanks also to the many generous raffle prize and place mat sponsors
Photo: Nathan Mahlik and Glenna Nickerson, CCAR  Board of Directors Affiliate Liaison. 
CCAR Support
(925) 295-1270