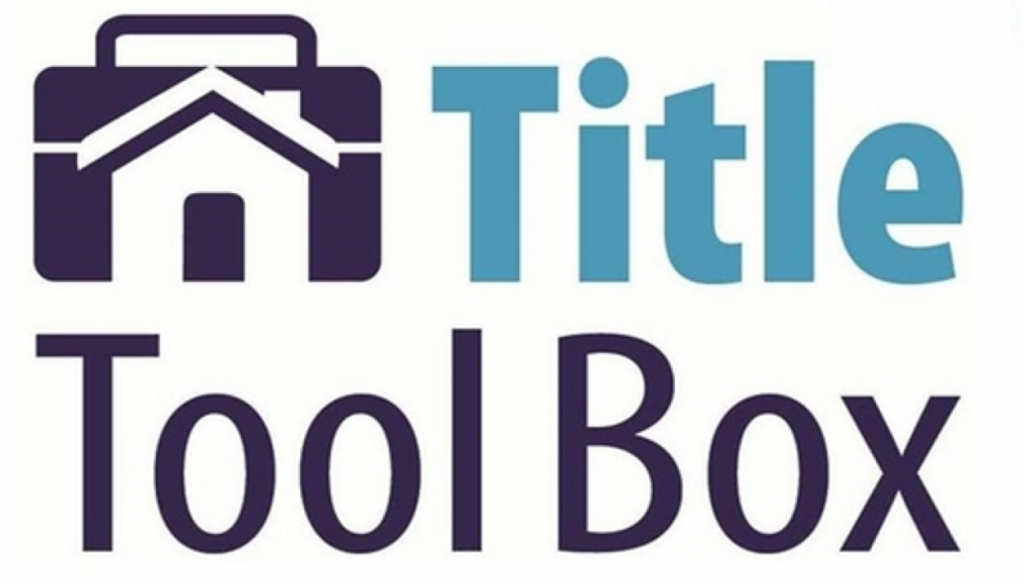 THE MOST POWERFUL TOOL FOR INCREASING REAL ESTATE INVESTMENT ROI IN TODAY'S MARKET.
Available FREE to CCAR members!
Access Title Toolbox on your MLS homepage
or by selecting "Title Toolbox" from the "Resources" menu in the MLS.
WORKS ON ANY DEVICE
Your ultimate mobile property locator – Title Toolbox works on any device: iPad, iPhone, Android devices, Macs and PCs.
MAPS MAKE SEARCH SIMPLE
Title Toolbox utilizes map-based search for easy, quick property identification. Search for an individual property or for groups of properties with simple intuitive clicks.
EASY TO USE
We have worked really hard to make Title Toolbox the easiest property identification application in the data market today. We have also assembled a great support staff to assist our customers in the learning process.
INCREASE YOUR BUSINESS
Marketing to all the properties in your community is inefficient. How do you choose the best properties to market to? Title Toolbox.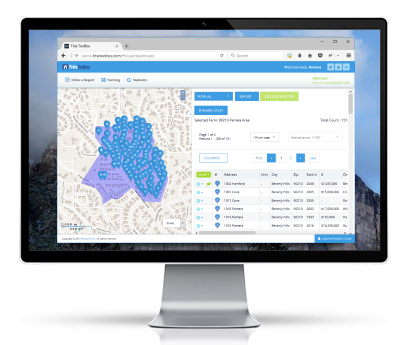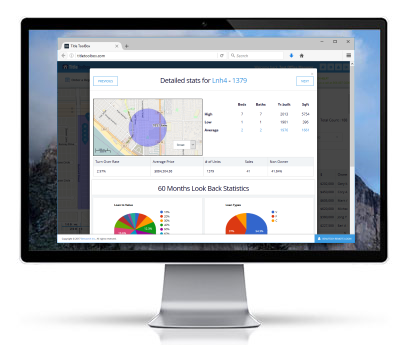 This valuable tool provides 24/7 access to property-specific information throughout the United States. Utilizing robust search and filtering resources, users can identify property owner information by mapped location, city, zip code or by other valuable groupings. Search by probable seller characteristics such as homeowners that purchased at the peak of the real estate market, or those owners that are potential empty nesters. Each property includes owner names, site and mailing address, daily updates on assessor information, mortgage and transfer history, sales comparables, and nearby neighbors – with all of the information exportable to Excel, PDF, or into a high quality Property Profile. The Farming Tool by Title ToolBox leaves no stone unturned.
Frequency of property sale (know as turnover rate) in geographical areas works like radar to place Realtors or investors into areas where homes are selling more frequently. It's a well known fact: When a home goes up for sale or when it sells, homeowners in the immediate area tend to list their homes for sale. Marketing into these "hot" sales areas is more effective that traditional geographic farming. The problem up to now was that finding these areas of high turnover rate was time consuming and difficult to locate – not any longer. The Tract Tool by Title Toolbox provides instant turnover rate by city, zip code or by map. Homes are grouped together in small or large groups by tract number/name, postal carrier route, tax rate area, zip code +4 area, or by census tract. Selected farm areas include owner names, site and mailing addresses, daily updates on assessor information, mortgage and transfer history, sales comparables, and nearby neighbors – with all of the information exportable to Excel, PDF, or into high quality Property Profiles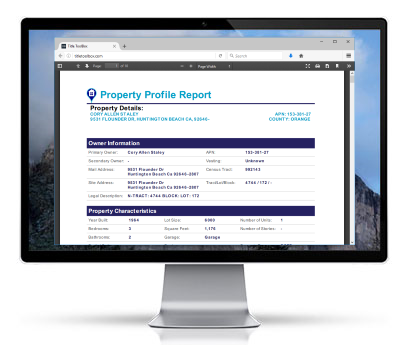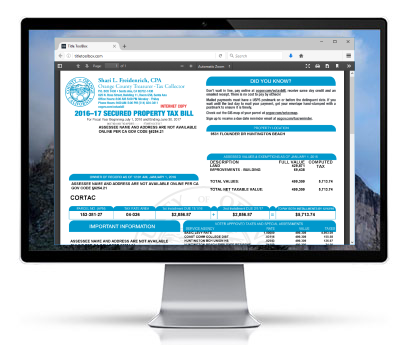 Property Profiles provides a wealth of information useful in understanding a subject property's history and makeup. Easily research properties by address, owner name, or parcel identification number. Property Profiles return all pertinent property and owner information for any property. Each property profile includes active links that will provide you with access to recorded documents if the need arises. Property Profiles can be accessed on any computer or mobile device.
When researching property, the need often arises to view recorded documents on property to verify important information. Recorded documents in Title Toolbox are located within any Property Profile via links associated with the document you choose to view. Click the active links, and documents can then be viewed online, saved, or forwarded to customers or yourself for future use.