CCAR Calendar Subscription
Help us stay connected! Our calendar provides you access to valuable opportunities – why not subscribe and stay up to date?
CCAR offers classes and courses on a variety of real estate related topics, from ActiveKeys to Zipforms, as well as hosting networking events, fundraisers and more. The calendar at ccartoday.com is a resource every real estate professional should have on hand. So follow the instructions below to subscribe and we will handle the rest!
Note: calendars update every 12-24 hours. Recent changes may not be reflected.
Subscribing is easy, but does vary slightly depending on what service to which you want to add the calendar. Follow the instructions for your device, using the subscription links at the bottom of the page.
Subscribe on iOS

Adding a calendar on your iOS device is as simple as clicking the link to the calendar – your device will challenge you as shown here.
Simply click the 'subscribe' button and the calendar feed will be added as a 'subscribed' calendar on your device for your iOS login. You can manage your calendar(s) in settings.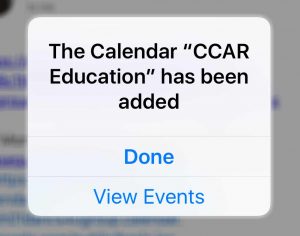 Once successfully added, your device will alert you, and also give you the option to start viewing events. All you need to do to see events in the future is visit your calendar on your device, which will attempt to refresh the data.
Please remember that even if changes have happened at the source online, they may not refresh on your device for up to 24 hours.
Alerts and notifications for calendar events will honor your iOS settings.
Subscribe on Android
Open Settings on your phone or tablet
In the "Personal" section, tap Accounts Add account
Select Google as the type of account
Sign in with your full email address and password
Follow the instructions on the screen to finish the sign in process
Subscribe from Google
Just open your google calendar, click the '+' new calendar option, and choose 'from URL.' Then copy/paste the URL for the calendar you want to subscribe to below.
After you click subscribe you will get a confirmation notice and the option to go to your calendar on the device and view the subscribed calendar. The first refresh of data is nearly immediate, like loading a web page.
Unfortunately, we cannot control the refresh rate after that, this is up to the published, which in the background is google. If you are looking for the latest information, say before attending an event that same day, please go to the online calendar to confirm.
Subscribe from Outlook
Depending on your version of outlook, click into the Calendar module, then click Manage Calendars, and Open – then select 'From Internet' and paste the Calendar URL of your choice above.